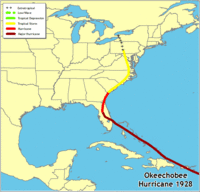 This classic Cape Verde hurricane was first detected over the tropical Atlantic on September 10, although it likely formed several days earlier. It moved westward through the Leeward Islands on the 12th. It then turned west-northwestward, scoring a direct hit on Puerto Rico on the 13th (the feast of San Felipe) as a Category 4 hurricane. The hurricane continued west-northwestward through the Bahamas and made landfall near Palm Beach, Florida on September 16. It turned north-northeastward over the Florida Peninsula on the 17th, a motion which brought the remains of the storm to eastern North Carolina on the 19th. It then turned northward and merged with a non-tropical low over the eastern Great Lakes on September 20.
No reliable wind readings are available from near the landfall area in Florida. However, Palm Beach reported a minimum pressure of 27.43 in, making this the fourth strongest hurricane of record to hit the United States. In Puerto Rico, San Juan reported 144 mph sustained winds, while Guayama reported a pressure of 27.65 inches. Additionally, a ship just south of St. Croix, United States Virgin Islands (USVI) reported a pressure of 27.50 inches, while Guadeloupe in the Leeward Islands reported a pressure of 27.76 inches.
This hurricane caused heavy casualties and extensive destruction along its path from the Leeward Islands to Florida. The worst tragedy occurred at inland Lake Okeechobee in Florida, where the hurricane caused a lake surge of 6 to 9 ft that inundated the surrounding area. 1,836 people died in Florida, mainly due to the lake surge. An additional 312 people died in Puerto Rico, and 18 more were reported dead in the Bahamas. Damage to property was estimated at $50,000,000 in Puerto Rico and $25,000,000 in Florida.
Source: NOAA Hurricanes in History