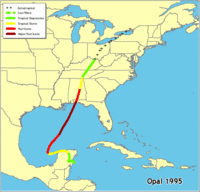 Opal was first detected as a tropical wave moving off the African coast on September 11. The waved moved westward through the Atlantic and Caribbean and merged with a broad low pressure area over the western Caribbean on September 23. The combined system then developed into a tropical depression near the east coast of the Yucatan Peninsula on September 27. The depression drifted slowly northward, becoming Tropical Storm Opal as it reached the north coast of Yucatan on the 30th. Opal then moved slowly westward into the Bay of Campeche, where it became a hurricane on October 2. A gradual north-northeastward turn started later on the 2nd, with acceleration on the 3rd and 4th. Opal continued to strengthen, and a period of rapid strengthening late of the 3rd and early on the 4th made it a Category 4 hurricane. Weakening followed, and Opal was a Category 3 hurricane when it made landfall near Pensacola Beach, Florida late on the 4th. Opal continued quickly north-northeastward and became extratropical over the Ohio Valley on the 5th. The cyclone was last seen over the eastern Great Lakes on October 6.
Hurlbert Field, Florida reported sustained winds of 84 mph with a peak gust of 144 mph, and gusts to 70 mph occurred as far inland as northwest Georgia. However, the main impact from Opal was from storm surge. A combination of storm surge and breaking waves inundated portions of the western Florida Panhandle coast to a depth of 10 to 20 ft. The surge was responsible for the bulk of the $3 billion in damage attributed to Opal in the United States.
Opal was responsible for 9 deaths in the United States, including 8 from falling trees and one from a tornado. Opal was responsible for 50 deaths in Mexico and Guatemala due to flooding caused by heavy rains.
Source: NOAA Hurricanes in History