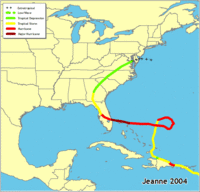 Jeanne formed from a tropical wave, becoming a tropical depression on September 13 near the Leeward Islands, and strengthening to a tropical storm the next day. Moving west-northwestward, Jeanne struck Puerto Rico on the 15th with 70 m.p.h. winds and then strengthened to a hurricane just before making landfall in the Dominican Republic. Jeanne spent nearly 36 hours over the rough terrain of Hispaniola, generating torrential rainfall before emerging into the Atlantic north of the island. Steering currents in the western Atlantic were weak, and Jeanne moved slowly through and north of the southeastern Bahamas over the next five days while it gradually regained the strength it had lost over Hispaniola. By the 23rd , high pressure had built in over the northeastern United States and western Atlantic, causing Jeanne to turn westward. Jeanne strengthened and became a major hurricane on the 25th while the center moved over Abaco and then Grand Bahama Island. Early on the 26th , the center of Jeanne's 60-mile-wide eye crossed the Florida coast near Stuart, at virtually the identical spot that Frances had come ashore three weeks earlier. Maximum winds at the time of landfall are estimated to be near 120 m.p.h.
Jeanne weakened as it moved across central Florida, becoming a tropical storm during the afternoon of the 26th near Tampa, and then weakening to a depression a day later over central Georgia. The depression was still accompanied by heavy rain when it moved over the Carolinas, Virginia, and the Delmarva Peninsula on the 28th and 29th before becoming extratropical.
Jeanne produced extreme rain accumulations in Puerto Rico and Hispaniola, with nearly 24 inches reported in Vieques. Rains from the cyclone resulted in historic floods in Puerto Rico, and deadly flash-floods and mudslides in Haiti, where over 3000 people lost their lives and roughly 200,000 were left homeless. Three deaths occurred in Florida, and one each in Puerto Rico, South Carolina, and Virginia. In the United States, damage is estimated to be near $6.9 billion.
Source: NOAA Hurricanes in History