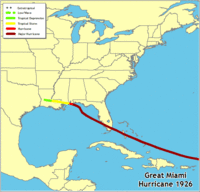 The "Great Miami" Hurricane was first spotted as a tropical wave located 1,000 miles east of the Lesser Antilles on September 11th. The system moved quickly westward and intensified to hurricane strength as it moved to the north of Puerto Rico on the 15th. Winds were reported to be nearly 150 mph as the hurricane passed over the Turks Islands on the 16th and through the Bahamas on the 17th. Little in the way of meteorological information on the approaching hurricane was available to the Weather Bureau in Miami. As a result, hurricane warnings were not issued until midnight on September 18th, which gave the booming population of South Florida little notice of the impending disaster.
The Category 4 hurricane's eye moved directly over Miami Beach and downtown Miami during the morning hours of the 18th. This cyclone produced the highest sustained winds ever recorded in the United States at the time, and the barometric pressure fell to 27.61 inches as the eye passed over Miami. A storm surge of nearly 15 feet was reported in Coconut Grove. Many casualties resulted as people ventured outdoors during the half-hour lull in the storm as the eye passed overhead. Most residents, having not experienced a hurricane, believed that the storm had passed during the lull. They were suddenly trapped and exposed to the eastern half of the hurricane shortly thereafter. Every building in the downtown district of Miami was damaged or destroyed. The town of Moore Haven on the south side of Lake Okeechobee was completely flooded by lake surge from the hurricane. Hundreds of people in Moore Haven alone were killed by this surge, which left behind floodwaters in the town for weeks afterward.
The hurricane continued northwestward across the Gulf of Mexico and approached Pensacola on September 20th. The storm nearly stalled to the south of Pensacola later that day and buffeted the central Gulf Coast with 24 hours of heavy rainfall, hurricane force winds, and storm surge. The hurricane weakened as it moved inland over Louisiana later on the 21st. Nearly every pier, warehouse, and vessel on Pensacola Bay was destroyed.
The great hurricane of 1926 ended the economic boom in South Florida and would be a $90 billion disaster had it occurred in recent times. With a highly transient population across southeastern Florida during the 1920s, the death toll is uncertain since more than 800 people were missing in the aftermath of the cyclone. A Red Cross report lists 373 deaths and 6,381 injuries as a result of the hurricane.
Source: NOAA Hurricanes in History