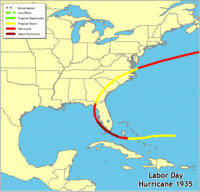 This system was first detected east of the central Bahamas on August 29. Moving westward, it passed near Andros Island on September 1, at which time it reached hurricane strength and turned west-northwestward. Phenomenal strengthening then occurred, and when the storm reached the middle Florida Keys on September 2, it was a Category 5 hurricane. After roaring through the Keys, the hurricane turned gradually northward almost parallel to the Florida west coast until it again made landfall near Cedar Key as a Category 2 hurricane on the 4th. A northeastward motion took the storm across the southeastern United States to the Atlantic coast near Norfolk, Virgina on September 6. It continued into the Atlantic, becoming extratropical on the 7th and last being detected on the 10th.
No wind measurements are available from the core of this small, but vicious hurricane. A pressure of 26.35 inches measured at Long Key, Florida makes this the most intense hurricane of record to hit the United States and the third most intense hurricane of record in the Atlantic basin (surpassed only by the 26.05 inches in Hurricane Wilma in 2005 and 26.22 inches observed in Hurricane Gilbert in 1988).
The combination of winds and tides were responsible for 408 deaths in the Florida Keys, primarily among World War I veterans working in the area. Damage in the United States was estimated at $6 million.
Source: NOAA Hurricanes in History