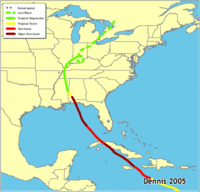 Dennis formed from a tropical wave that moved westward across the coast of Africa on June 29. A tropical depression developed from the wave on July 4 near the southern Windward Islands. The cyclone moved west-northwestward across the eastern and central Caribbean sea, became a tropical storm on July 5, and strengthened into a hurricane early on July 6 about 245 miles east-southeast of Jamaica. Dennis intensified over the next two days, becoming a major hurricane on July 7 and a Category 4 hurricane with winds of 150 mph the next day just south of central Cuba. Dennis passed over Cabo Cruz, Cuba early on July 8 with winds of 135 mph, and then made landfall along the south-central coast of Cuba that afternoon near Cienfuegos with winds of 145 mph. After landfall, Dennis passed near Havana and weakened to a Category 1 hurricane before emerging over the southeastern Gulf of Mexico early on July 9. Although Dennis re-intensified into a Category 4 hurricane with winds of 145 mph early on July 10 over the eastern Gulf of Mexico, it weakened to Category 3 strength before making landfall over the western Florida Panhandle near Navarre Beach late that day. Dennis degenerated to a low pressure area over the Tennessee and Ohio Valleys, and it was eventually absorbed by an extratropical low over southeastern Canada on July 18.
Dennis brought hurricane conditions to many portions of Cuba. Cabo Cruz reported sustained winds of 133 mph with a gust to 148 mph at 0200 UTC July 8, with a minimum pressure of 956 mb at 0240 UTC just before the eye passed over the station. The anemometer was destroyed, and it is possible more extreme winds occurred. Dennis also caused hurricane conditions in the western Florida Panhandle. An instrumented tower run by the Florida Coastal Monitoring Program (FCMP) at Navarre measured 1-min average winds (5-m elevation) of 99 mph and a gust to 121 mph at 1921 UTC July 10.
Storm-total rainfalls in excess of 23 inches occurred on both Cuba and Jamaica. Heavy rainfall also occurred over much of Florida and extended well inland over portions of the southeastern United States with the maximum amount of 12.80 inches near Camden, Alabama. Ten tornadoes were reported in association with Dennis in the United States.
Dennis caused 42 deaths – 22 in Haiti, 16 in Cuba, 3 in the United States, and 1 in Jamaica. The hurricane caused considerable damage across central and eastern Cuba as well as the western Florida Panhandle, including widespread utility and communications outages. Considerable storm surge-related damage also occurred near St. Marks, Florida, well to the east of the landfall location. The damage associated with Dennis in the United States is estimated at $2.23 billion. Damage in Jamaica is estimated at 1.9 billion Jamaican dollars* (approximately $31.7 million U. S.).
Source: NOAA Hurricanes in History