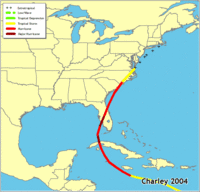 Charley originated from a tropical wave, developing into a tropical depression on August 9 about 115 miles south-southeast of Barbados. The depression strengthened within a low-shear environment to a tropical storm early the next day in the eastern Caribbean, and became a hurricane on the 11th near Jamaica. Charley's center passed about 40 miles southwest of the southwest coast of Jamaica, and then passed about 15 miles northeast of Grand Cayman as the hurricane reached category 2 strength on the 12th. Charley turned to the north-northwest and continued to strengthen, making landfall in western Cuba as a category 3 hurricane with 120 m.p.h. maximum winds. Charley weakened just after its passage over western Cuba; its maximum winds decreased to about 110 m.p.h. by the time the center reached the Dry Tortugas around 8 am on the 13th.
Charley then came under the influence of an unseasonably strong mid-tropospheric trough that had dropped from the east-central United States into the eastern Gulf of Mexico. The hurricane turned north-northeastward and accelerated toward the southwest coast of Florida as it began to intensify rapidly; dropsonde measurements indicate that Charley's central pressure fell from 964 mb to 941 mb in 4.5 hours. By 10 am, the maximum winds had increased to near 125 m.p.h., and three hours later had increased to 145 m.p.h. – category 4 strength. Charley made landfall with maximum winds near 150 m.p.h. on the southwest coast of Florida just north of Captiva Island around 3:45 pm. An hour later, Charley's eye passed over Punta Gorda. The hurricane then crossed central Florida, passing near Kissimmee and Orlando. Charley was still of hurricane intensity around midnight when its center cleared the northeast coast of Florida near Daytona Beach. After moving into the Atlantic, Charley came ashore again near Cape Romain, South Carolina near midday on the 14th as a category 1 hurricane. The center then moved just offshore before making a final landfall at North Myrtle Beach. Charley soon weakened to a tropical storm over southeastern North Carolina and became extratropical on the 15th as it moved back over water near Virginia Beach.
Although ferocious, Charley was a very small hurricane at its Florida landfall, with its maximum winds and storm surge located only about 6-7 miles from the center. This helped minimize the extent and amplitude of the storm surge, which likely did not exceed 7 feet. However, the hurricane's violent winds devastated Punta Gorda and neighboring Port Charlotte. Rainfall amounts were generally modest, less than 8 inches. Charley also produced 16 tornadoes in Florida, North Carolina and Virginia. The total U. S. damage is estimated to be near $15 billion, making Charley the second costliest hurricane in U.S. history. Casualties were remarkably low, given the strength of the hurricane and the destruction that resulted. Charley was directly responsible for ten deaths in the United States. There were also four deaths in Cuba and one in Jamaica.
Source: NOAA Hurricanes in History