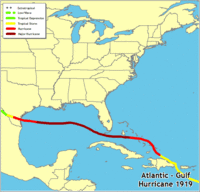 This fearsome cyclone was first detected near the Lesser Antilles on September 2. It moved generally west-northwestward for several days, passing near the Dominican Republic on September 4 and into the southeastern Bahamas on the 5th and 6th. At that time it became a hurricane. A westward turn on September 7 took the center across the central Bahamas on the 7th and 8th and into the Straits of Florida on the 9th. The now large hurricane was of Category 4 intensity as the eye passed just south of Key West, Florida and the Dry Tortugas on September 10. A continued west to west-northwestward motion brought the center to the Texas coast south of Corpus Christi as a Category 3 hurricane on September 14. The cyclone dissipated over northern Mexico and southern Texas the next day.
Although hurricane-force winds occurred over the Florida Keys and the central and south Texas coast, no reliable wind measurements are available from near the center. A storm surge of up to 12 ft inundated Corpus Christi, Texas causing major damage to the coastal areas. A ship moored near the Dry Tortugas measured a pressure of 27.37 inches as the center passed, and based on this, the storm is ranked as the third most intense to hit the United States.
The death toll was estimated at 600 to 900 people. Of these, more than 500 were lost on ten ships that either sunk or were reported missing. Damage in the United States was estimated at $22 million.
Source: NOAA Hurricanes in History